A payments kiosk with multiple service offerings including check cashing, bill pay, crypto, wire remittance and more!
Kiosk Prepaid provides financial freedom to 100 million+ un-banked or under-banked people in the United States.
Kiosk Prepaid focuses on consumers without traditional bank accounts or credit. Using the Kiosk, they can cash checks, pay bills, send wire transfers, or get a prepaid debit card. Banked consumers can purchase a gift card, buy an airtime card, or use the kiosk as a traditional ATM.
Kiosk Prepaid offers a complete financial services kiosks that takes a small footprint in the retail location allowing store owners to not only generate revenues, but also drive traffic and by adding multiple services to the location without the need for any employees. Locations will also see an increase in sales by allowing consumers to cash their checks and sell their unwanted gift cards for spending on groceries and services.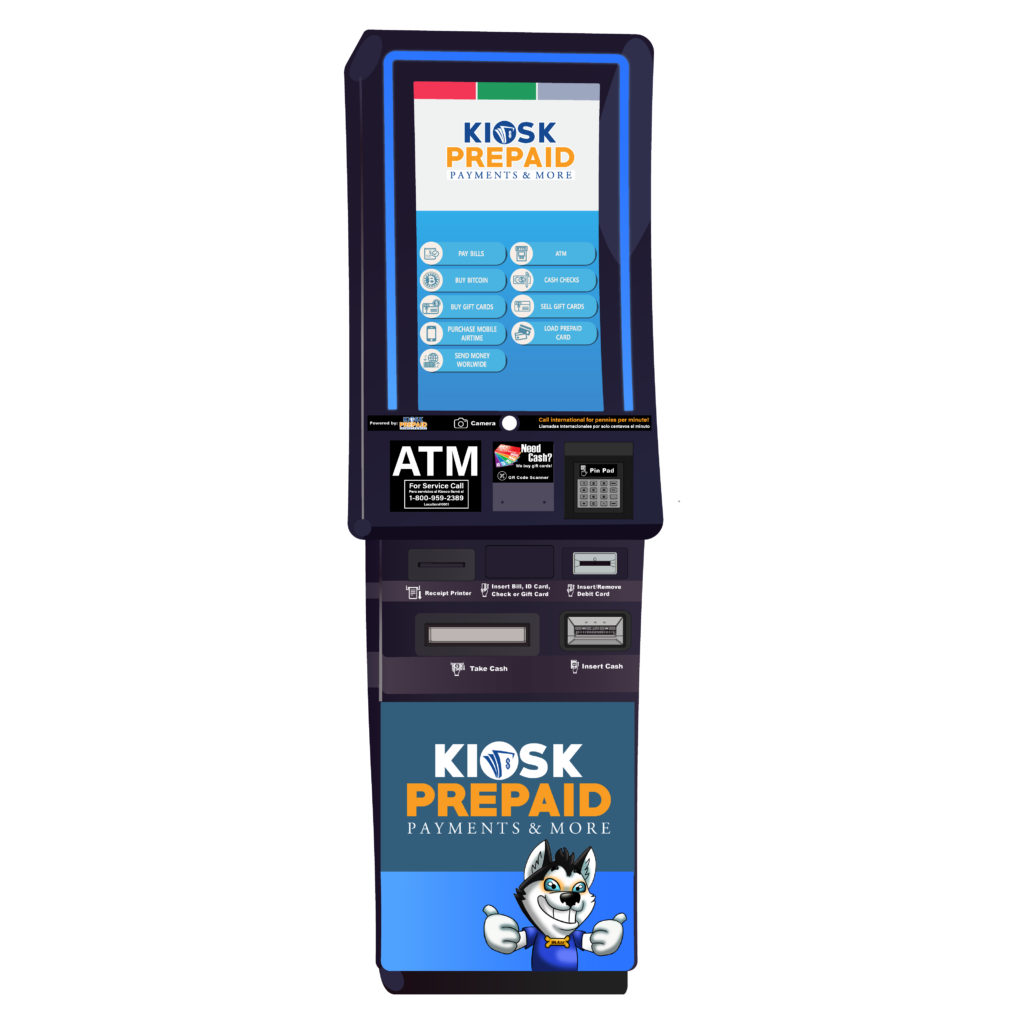 Multiple Services in One Kiosk
Kiosk Prepaid includes an ATM, Bitcoin services, wire remittance, gift card sales, check cashing, prepaid debit cards, and bill pay, all in one kiosk.
Outstanding Customer Support
Kiosk Prepaid provides a complete management team, operations team, success team, and development/support team. Their bi-lingual call center is available 24/7 for all your customer service related needs.  
An estimated 25% of U.S. depend on convenience and grocery stores conduct their financial services. The kiosk provides an ease of use for customers and store owners alike.
In addition to having negotiated a lower price for CTW members, retailers will keep a high percentage of the fees earned on transactions at the kiosk.
Kiosk Prepaid offers bill pay, check cashing, and wire remittance, all in one place. This frees your employees to focus on other operations in store.
The kiosk includes security features such as a 3 in 1 scanner for ID, checks and bills, a thermal receipt printer, a QR code/ bar code scanner, and a card dispenser reader/writer.
Want to learn more about Kiosk Prepaid? Contact us today!